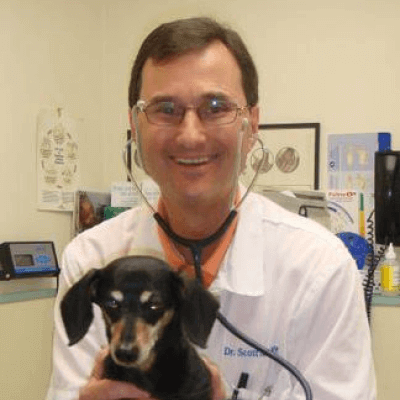 Scott Luckow, DVM
Dr. Luckow received a bachelor's degree in animal science, with distinction, from Cornell University in 1975 and his Doctor of Veterinary Medicine degree from the New York State College of Veterinary Medicine at Cornell University in 1978. After veterinary school, Dr. Luckow completed a one-year medical and surgical internship followed by a two-year surgical residency at the Animal Medical Center (AMC) in NYC. It was there that his Bronx clients encouraged him to open a hospital in their neighborhood.
Continuing Education (CE) has been a major force in Dr. Luckow's practice philosophy, and he has been recognized by the New York State Academy of Veterinary Practice for attending a minimum of 20 hours of CE per year. Dr. Luckow has been accredited by the US Department of Agriculture since 1978, which entitles him to provide health and travel certificates for his patients for domestic and international travel. Dr. Luckow is a member of the American Veterinary Medical Association. He is also a member of the NYS and NYC Veterinary Associations and served on the Ethics Committee of the New York City Veterinary Association for several years. Dr. Luckow is a member of the NYC Veterinary Emergency Response Team to help New York City's pets during emergencies.
Dr. Luckow married his high school sweetheart, Sherri, who serves as his office manager. They have three children. He spends any spare time he has with his yellow Lab, Indiana Bones, or playing golf and tennis.